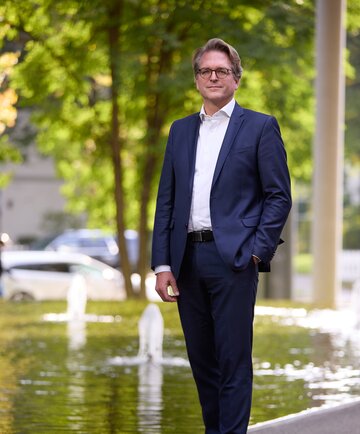 High-tech patenting with dedication and attention to detail
Markus Müller's work in the IP world over the last two decades spans a wide range of technical areas including optoelectronics, photonics, telecommunications, medical physics and imaging, automotive and lighting electronics. As these technologies have gained more importance over time, apart from dealing with the patent offices, Markus has become a frequent participant in EPO's Boards of Appeal and Opposition Divisions, the Federal Patent Court (Germany's court dealing with the validity of patents), several German civil courts in patent infringement proceedings and the Federal Court of Justice. Markus has great experience in advising all types of companies from helping start-ups in drafting patent applications to multinationals in international litigation projects.

Before starting with HOFFMANN EITLE in patent law, Markus had built up a strong technical background in electrical and optical engineering, studying physics at Heidelberg University, the University of Massachusetts and Massachusetts Institute of Technology (MIT). Research topics included the optical characterization of quantum dot structures and projects in biomedical optics. While at MIT, he focused for several years on the utilization of fluorescence microscopy and spectroscopy for tissue characterization to develop real time pre-cancer detection systems. After university, Markus gained experience in the business world as temporary analyst with Siemens Management Consulting. As part of his German Patent Attorney education, he spent training periods at the Federal Patent Court and Civil Court in Munich. He is author of more than 20 international scientific publications as well as several publications in patent law.

In his spare time Markus enjoys hiking and biking with his family, playing tennis, sailing and skiing.
Dr. rer. nat. (Physics), Heidelberg University
Dipl.-Phys., Heidelberg University
M.Sc., University of Massachusetts
German Patent Attorney (2007)
European Patent Attorney (2011)
Representative before the Unified Patent Court
German Patent Attorney Bar Association
epi
FICPI