Judges of the UPC
Legal Judges
Local Divisions
Paris:

Ms Carine Gillet (FR)
Ms Camille Lignieres (FR)

Düsseldorf:

Ms Bérénice Thom (DE)
Mr Ronny Thomas (DE)

Hamburg:

Ms Sabine Klepsch (DE)
Mr Stepfan Schilling (DE)

Mannheim:

Mr Holger Kircher (DE)
Mr Peter Tochtermann (DE)

Munich:

Mr Tobias Pichlmaier (DE)
Mr Matthias Zigann (DE)

Milan:

Mr Pierluigi Perrotti (IT)
Ms Alima Zana (IT)

The Hague:

Mr Edgar Brinkmann (NL)
Ms Margot Kokke (NL)
Regional Divisions
Ms Kai Harmand (EE)
Mr Stefan Johansson (SE)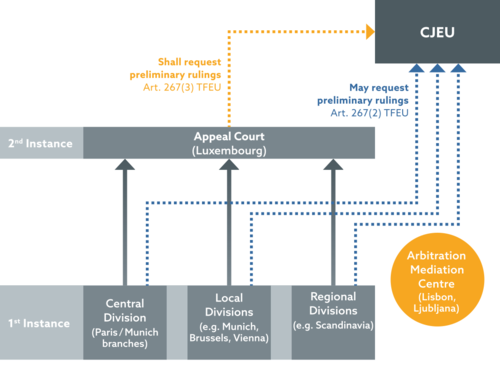 Central Divisions
Ms Florence Butin (FR)
Mr Paolo Catallozzi (IT)
Mr Maximilian Haedicke (DE)
Ms Tatyana Zhilova (BG)
Mr François Thomas (FR)

Ms Mélanie Bessaud (FR)
Ms Ulrike Voß (DE)
Mr András Kupecz (NL)
Court of Appeal
Three legally qualified judges will be drawn from this list:

Mr Klaus Grabinski (DE)
Ms Françoise Barutel (FR)
Mr Peter Blok (NL)
Ms Emanuela Germano (IT)
Ms Rian Kalden (NL)
Ms Patricia Rombach (DE)
Ms Ingeborg Simonsson (SE)

Two technically qualified judges will be drawn from the general list of technically qualified judges.
Technically qualified judges
Please note that the information provided below are acurate as of August 9, 2023. Technical qualified judges with more than on technical area are listed on each area separately (according to official sources).
Ms Gabriele Alt (DE)
Mr Arwed Andreas Burrichter (DE)
Mr Xavier Dorland-Galliot (FR)
Mr Eric Enderlin (FR)
Mr Rainer Friedrich (DE)
Mr Paolo Gerli (IT)
Mr Andreas Gustafsson (SE)
Ms Anna Hedberg (SE)
Mr Krister Karlsson (FI)
Mr Cornelis Schüller (NL)

Ms Gabriele Alt (DE)
Mr Michael Alt (DE)
Mr Xavier Dorland-Galliot (FR)
Mr Rudi Goedeweeck (BE)
Mr Andreas Gustafsson (SE)
Ms Anna Hedberg (SE)
Ms Stefanie Parchmann (DE)
Ms Stefanie Philipps (DE)
Mr Casper Struve (DK)
Mr Steen Wadskov-Hansen (DK)
Ms Carola Wagner (DE)
Mr Erwin Wismeth (DE)

Mr Pascal Attali (FR)
Mr Eric Augarde (FR)
Mr Bertrand Cochet (FR)
Mr Alain Dumont (BE) (take up of duties as of 1 Nov 2023)
Mr Guillaume Faget (FR)
Mr Hergen Kapels (DE)
Mr Dennis Kretschmann (DE)
Mr Klaus Loibner (AT)
Mr Udo Matter (DE)
Ms Wiem Samoud (FR)
Mr Alessandro Sanchini (IT)
Ms Alessandra Sani (IT/DE)
Mr Andrea Scilletta (IT)
Mr Anthony Soledade (FR)
Mr Jürgen Tischler (DE)
Mr Simon Walker (FI)

Mr Michel Abello (FR)
Mr Graham Ashley (DE/UK)
Mr Uwe Ausfelder (DE)
Mr Koen Callewaert (BE)
Mr Giorgio Checcacci (IT)
Mr Paolo Ernesto Crippa (IT)
Mr Claus Elmeros (DK)
Mr Frédéric Gaillarde (FR)
Mr Nicolai Geier (DE)
Ms Merja Annikki Heikkinen-Keinänen (FI)
Mr Bernard Christiaan Ledeboer (NL)
Mr Jeroen Meewisse (NL)
Ms Elisabetta Papa (IT)
Mr Martin Schmidt (FR/DE)
Mr Uwe Schwengelbeck (DE)
Mr Max Tilmann (DE)
Ms Marie-Paule Vandeberg (BE)
Mr Marc van der Burg (NL)
Mr Pascal Lucien Pierre Weber (FR)
Mr Stefan Wilhelm (DE)

Mr Guillaume Faget (FR)
Mr Michael Fleuchaus (DE)
Mr Nicolai Geier (DE)
Mr Anders Max Hansson (SE)
Mr Hergen Kapels (DE)
Ms Ulrike Keltsch (DE)
Mr Klaus Loibner (AT)
Mr Udo Matter (DE)
Mr Gérard Myon (FR)
Ms Dörte Otten-Dünnweber (DE)
Mr Andrea Perronace (IT)
Mr Patrik Rydman (SE)
Mr Christoph Dominik Schober (DE)
Ms Wiem Samoud (FR)
Ms Alessandra Sani (IT/DE)
Mr Anthony Soledade (FR)
Mr Jürgen Tischler (DE)
Mr Erwin Wismeth (DE)