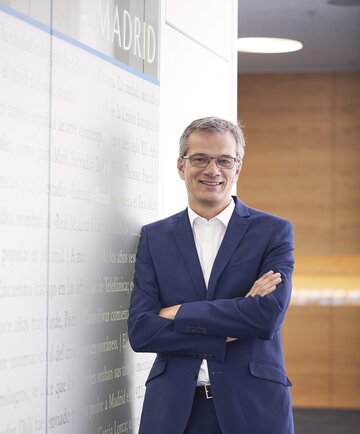 Experience and passion
Even after more than 25 years in the profession, Joachim Renken is still passionate about his job - always eager to learn about new technologies and to accept new challenges.

Joachim's practice extends to all areas of the life sciences, from gene editing to sub-diffraction fluorescence microscopy, from cell therapy to small molecules. His ample experience in both patent prosecution and litigation allows him to provide his clients with thorough strategic advice, be it in the context of creating strong patent portfolios or IP due diligence.

Joachim is particularly active in contentious proceedings - EPO oppositions and appeals, nullity proceedings before the German Federal Patent Court and the German Federal Court of Justice, and infringement proceedings before the (Higher) Regional Courts. He has been invited by the EPO to share his experience in oral proceedings by videoconference in several webinars and a podcast.

Joachim also devotes time to the development and management of the HOFFMANN EITLE offices in Madrid and Barcelona.

When not at work, you can often find him on the tennis court or in the mountains.
University of Heidelberg - Diploma in Chemistry (1993)
University of Heidelberg – Ph.D. in Biophysical Chemistry (1996)
German Patent Attorney (2000)
European Patent Attorney (2001)
German Patent Attorney Bar Association
epi
FICPI
VPP
AIPPT
T 314/12 – DUPONT NUTRITION BIOSCIENCES ApS vs. CHR. HANSEN: liquid starter cultures (patentee).
T2488/12 - CHR. HANSEN et al. vs. DUPONT NUTRITION BIOSCIENCES ApS: CRIRPR/cas in prokaryotes (opponent).
T1224/12 - DUPONT NUTRITION BIOSCIENCES ApS vs. CHR. HANSEN: tetracycline sensitive bifidobacteria (patentee).
T2091/13 – DSM vs. CHR. HANSEN et al.: chymosin for cheese manufacture (patentee).
T1348/14 - ACCORD et al. vs. THE UNITED STATES OF AMERICA: cancer drug bortezomib (opponent).
3 Ni 23/15 – ACCORD vs. MEDAC: methotrexate for rheumatoid arthritis (nullity plaintiff in the first instance – appeal hearing in July 2019).
Over a dozen appeals filed in the last 3 years and dozens of oppositions/ appeals over the last decade (10 to 20 opposition hearings per year over at least the last 10 years)
Regularly recommended as patent attorney e.g. in Juve, Handelsblatt/Best Lawyers in Germany, and IAM
iam1000
[...] extremely capable patent attorney who is creative and reliable when preparing and presenting arguments. He is always a pleasure to work with too, because he's friendly and open-minded, with a good sense of humour. Even under the most difficult circumstances, you feel comfortable. He is at his best handling opposition and appeal cases before the EPO. He comes to matters extremely well prepared and is always in total control of the situation, as he has an exceptional understanding of the game and always keeps his mind clear in spite of the stressful atmosphere.