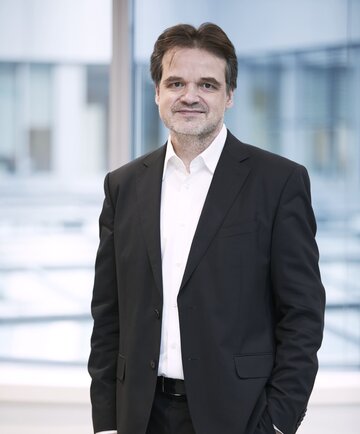 A lawyer who builds bridges
Dirk Schüßler-Langeheine has been a German attorney for over 20 years and is co-head of Hoffmann Eitle's Patent Litigation & Licensing practice group, together with Holger Stratmann. He has many years of experience as lead counsel in national and international patent enforcement and defence projects. He develops distinctive and effective enforcement and defence strategies tailored to the client's interests and the specific case, showing great expertise, full commitment and a good feel for what is possible in the implementation of these strategies. In this way, he has repeatedly contributed to the development of case law, laying the foundations for successful outcomes. For example, he brought about a ground-breaking change in case law to facilitate the enforcement of medical use claims, he conducted one of the first cross-border inspection proceedings abroad to enforce a German patent, and negotiated the first global mobile technology license for a client after successful litigation regarding standard-essential patents in Germany, which resulted in a number of further licences.

Dirk deems making connections and building bridges to be a major key to success:
As a litigator, he can take the technical and legal complexities of a case and create imaginative solutions, communicating in plain and compelling language.
As a coordinator of international disputes, he connects his clients with specialised teams of lawyers throughout Europe, ensuring the centrality of the essential interests of the client.
In contract negotiations, he mediates between personalities and cultures and leads deadlocked negotiations to successful conclusions.
As a mediator, he understands the specifics of the situation as well as the factual and personal interests of the parties involved. In this way he overcomes seemingly unbridgeable divides.
In his spare time, he enjoys reading, running and sailing. He also likes to play cards, especially bridge.
Study of law, politics and Japanese studies at Bonn University 1989 – 1995
scholar of Konrad-Adenauer-Stiftung 1990 – 1995
study of language and culture in Kyoto (1991/92) and Reims (1992/93)
Research assistant at the Institute for International and Foreign Private Law of Cologne University 1995 – 1998
Legal traineeship in Wuppertal, Düsseldorf, Cologne and Tokyo 1996 – 1998
second juridical state examination 1998
Research student at Kobe University 1998/99 as scholar of the Japan Foundation
Doctorate in Law, University of Osnabrück in 2003
German Attorney-at-Law (2000)
Mediator (2020)
GRUR
LES
German-Japanese Association of Jurists (DJJV)
International Lawyers Association Osnabrueck
"Revision of Japanese Patent Law: Introduction of the new inspection system and the practice of German inspection System, 特許法改正-査証制度の導入とドイツの査察制度の実情", in :[Annual Report Intellectual Property Law 2019-2020, 年報知的財産法2019-2020](co-auther; Nippon Hyoron Sha 2019)
Presentation "Patent Litigation in Germany and two separate actions" at "Intellectual Property Committee Industrial Structure Council" of Japan Patent Office (JPO) in 2019
"Litigating Claims for Damages for Patent Infringement in Germany" (co-author; Law & Technology No. 85 (2019/10)
"Recent Trends of IP Law in Europe" (co-editor, Chizai Kanri Vol, 68 No. 4, 2018)
"Patent Practice in Japan and Europe: Liber Amicorum for Guntram Rahn": (co-editor; Wolters Kluwer 2011)
"ドイツ企業とのライセンス契約" [License Agreements with German Companies] (co-author), in: 知財ライセンス契約の法律相談 [Legal Counseling on Intellectual Property License Agreements] (ed. Yamagami/Fujikawa, Tokyo 2011)
"Patent- und Gebrauchsmusterrecht in Japan" [Patent and Utility Model Law in Japan] (co-author), in: "Handbuch Japanisches Handels- und Wirtschaftsrecht" [Handbook on Japanese Trade- and Commercial Law] (Baum/Bälz; Heymanns 2011)
Alleviation of the Burden of Proof in Japanese Actions for Damages (2004); Art. 30 – 52 CISG, Soergel, Commentary on the German Civil Code, 13th edition (2000, co-author with Luederitz)
Annual surveys of Japanese Supreme Court decisions on civil law.
Legal 500
"Internationally focus has been on Japan and among others hits goals with the Japanese speaking Dirk Schüssler-Langeheine. For example they continue to represent Seiko Epson in countless proceedings in the protection of patents for print cartridges. In addition they are mandated by Nippon Carbide Industries in many patent infringement proceedings and represented Panasonic successfully in a dispute with Philips regarding LED patents."
Schüssler-Langeheine is a recommended lawyer in patent law in:
JUVE German Commercial Law Firms
IP Patent Star Germany, Managing Intellectual Property (2019 - 2022)