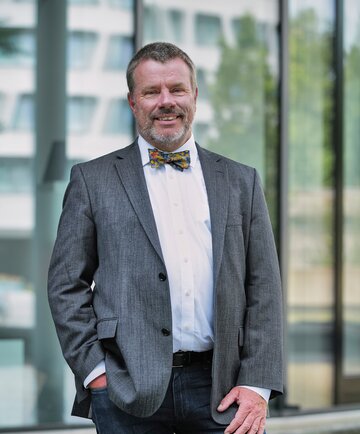 "My Priority lies on the 'Four S': Service, Specialisation, Speed, Sympathy"
Thorsten Bausch serves as Partner in HOFFMANN EITLE's Chemistry and Biotech practice group, with a strong focus on EPO Opposition and Appeal Proceedings and on German revocation and infringement proceedings.

Thorsten has practiced for almost 30 years in the chemical, pharmaceutical and biotechnology arts. Clients have called Thorsten "one of the best patent attorneys in Europe" and Peers have praised him as "the guiding light of patent enforcement in the pharmaceutical sector in Germany" (IP Stars Handbook 2017) and "definitely one of the go-to patent attorneys in Germany for SPCs" (iam Patent 1000)." He is perennially recognized by Chambers, Managing Intellectual Property, Wirtschaftswoche, JuVe, among many others. Who's Who Legal 2021 named Thorsten as "Thought Leader Global Elite" for Germany.

Thorsten serves and represents clients through all strata, from startups to fortune 500 companies as well as some of the most prestigious universities and research institutions in the world. He has acquired particular expertise in the fields of pharmaceuticals, immunology and polymers. Many pharmaceutical patents of major commercial value have been entrusted to Thorsten and his team at HOFFMANN EITLE. Thorsten was also in involved in Decision G 1/99 before the EPO's Enlarged Board of Appeal and contributed to Case G 1/21 as an amicus curiae. In 2021, Thorsten was invited to join the Standing Advisory Committee of the European Patent Office on Quality.

In addition to his client service, Thorsten is an avid writer. He has edited the book series "Nichtigkeitsrechtsprechung in Patentsachen" (German Patent Nullity Cases), a collection of the decisions in patent nullity matters from the German Federal Patent and Supreme Courts for several years. He wrote numerous articles on German and European patent law in GRUR, Patents & Licensing and held numerous lectures in and outside of Germany on patent law subjects. In personal capacity, Thorsten regularly blogs on www.kluwerpatentblog.com on patent policy issues and interesting decisions.

Prior to joining HOFFMANN EITLE in 1992, Thorsten studied chemistry at the University of Würzburg, the Technical University of Munich, and at the Massachusetts Institute of Technology. He won the faculty Award of the University of Würzburg 1984 and received scholarships from the Studienstiftung des Deutschen Volkes (German Scholarship Foundation), the Chemical Industry Trust, and the Ernest Solvay Foundation. He graduated in 1990 and completed his doctoral thesis in Technical Chemistry in 1992.

Aside from IP, Thorsten engages for the future of this planet and plays the tuba in a Bavarian brass band.
University of Würzburg – Vordiplom in Chemistry
Technical University of Munich – Diploma in Chemistry (with distinction)
Dr. rer. nat. in Chemistry at Technical University of Munich (with distinction)
German Patent and Trademark Attorney
European Patent Attorney
Representative before the Unified Patent Court (2023)
German Patent Attorney Bar Association
FICPI
epi
EPLIT
AIPPI
GRUR