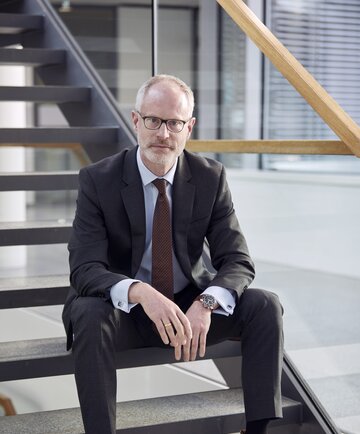 Make it count
Niels Hölder, attorney-at-law and certified IP specialist lawyer, is a partner in HOFFMANN EITLE's patent litigation practice group. For many years, he has been representing and advising large and medium-sized companies in major international patent disputes in all fields of technology with a focus on medical devices, pharmaceuticals and biotech, including infringement, entitlement and compulsory license proceedings before courts and arbitral tribunals. He is also experienced in negotiating and enforcing license agreements.

Niels is a dedicated litigator determined to get to the heart of things. Legal market magazines note that "Niels Hölder combines technical and legal skills to provide sophisticated representation in life science mandates" (Iam Patent Magazine), that he "is a well-established patent litigator in the market who is particularly praised for his impressive work across the pharma sector" (Who's Who Legal) or that he "meticulously works his way into technical details" (Juve Patent).

Before joining HOFFMANN EITLE in 2008, Niels worked in the litigation and IP practice groups of an international law firm in Berlin, Frankfurt, London and Chicago. He has published numerous articles in the field of intellectual property and regularly gives lectures on patent and civil procedure law. He holds an LL.M. in Intellectual Property (Exeter/Dresden) and earned his doctoral degree in the field of cross-border patent enforcement.

Niels enjoys singing in a concert choir and loves bikes of (almost) any kind.
Free University of Berlin (Bar Exam 1999)
Exeter University/Technical University Dresden: Postgraduate Program International
Studies in Intellectual Property Law (LL.M. 2001)
Technical University Dresden (PhD in Law 2004)
German attorney-at-law (Rechtsanwalt)
Certified IP Specialist Lawyer
Representative before the Unified Patent Court (2023)
Munich Bar Association
GRUR
AIPPI
AIPLA
LES
Regular lectures on patent law and civil procedure.
Der Opt-Outomat* (Mitteilungen der deustchen Patentanwälte, 2022, 430-434)
Patent litigation nowadays requires more insight and creative Imagination than ever before (Leaders League Intelligence Report & Directory Series 2017)
A guide to opting out of the UPC (Europe IP Focus 2017)
Pharma and Biotech Patent Litigation (Corporate Disputes Magazine, 2014)
Pallet Container II, Federal Court of Justice (Kluwer Patent Cases, 2012)
Equivalence and Relevant Prior Art – What Does the Person Skilled in the Art Know? in: Liber Amicorum Guntram Rahn, 2011
Liability for Acts Committed Abroad in: Overprotection by Means of Intellectual Property?, 2009
The Doctor's Freedom of Prescription – an Illusion?* in: Liber Amicorum Peter Mes, 2009
EPC 2000 and its impact on second medical use claims* in: Liber Amicorum Joseph Straus, 2009
Early entry comes at a price* (Patent World 5/2007, 11)
Replacement Parts and Exhaustion (GRUR 2007, 96)
Indirect Patent Infringement: Latest Developments in Germany* (EIPR 2006, 480)
Exogenous Equals Endogenous? Claim Construction After the Amgen Decision (IIC 2006, 662-669)
Patentability of diagnostic methods* (Pharmaceutical Law Insight 6/2006, 4)
Utility models for second medical use inventions in Germany* (Patent World 6/2006, 22)
SPCs for combinations of active ingredients* (Patent World 3/2006, 13)
2nd medical use claims at the EPO* (Patent World 2/2006, 12)
Indirect Infringement and Exhaustion (GRUR 2005, 20/AIPPI Japan 3/2004, 10/IIC 2005, 889)
Jurisdiction over co-defendants in European patent litigation (Mitt. 2005, 208)
Patent licenses in insolvency proceedings* (GRUR 2004, 743 and 803)
Cross-border Enforcement of European Patents (2004)
Enforcement of foreign IP rights in the UK (ICCLR 2002, 30 and 80)
*co-author.
JUVE (frequently recommended attorney since 2007)
Who's Who Legal (Germany /Global)
Managing Intellectual Property (IP Patent Star Germany, 2019 - 2022)
Handelsblatt (Best Lawyers 2021, 2022)
iam Patent 1000 (2023): "Niels produces excellent written work and he communicates effectively across borders, keeping the clients' objectives always in mind. He stays focused on the business goals and provides clear guidance to that end. His advice is invariably detailed, yet high level and strategically focused on the big picture. The analysis was very technically and legally thorough, which is not always evident from infringement-focused counsel. Overall, HOFFMANN EITLE, and particularly Niels, are a go-to firm for European litigation strategy, especially because of their knowledge and familiarity with medical technologies and the issues that face medical device companies."
Legal 500