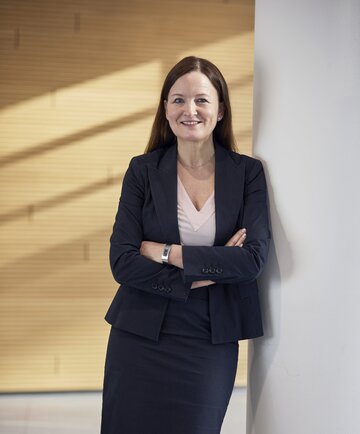 Experience meets creativity
Nadja Muncke is a partner in HOFFMANN EITLE's Biotechnology practice group in the Munich office, with nearly 20 years of experience in the patent profession. She advises large and medium-size Biotech clients from the US, Japan and Europe. While also dealing with an extensive prosecution practice, Nadja has gained particular expertise in EPO opposition and appeal proceedings. Several clients have come to her for help with difficult cases - and have stayed ever since. Nadja and her team strive for the best result in each case, showing great attention to detail without losing sight of the bigger picture.

Her clients appreciate her experience and dedication, as well as her open mindedness and good sense of humour.

Nadja studied biology and chemistry at the University of Heidelberg, with a one-year stint in the US. During her Ph.D. studies in the field of molecular genetics, Nadja received prestigious scholarships from the University of Heidelberg and the State of Baden-Württemberg. After completing her Ph.D., Nadja moved to London and joined the IP profession. She trained and worked with one of the UK's leading IP firms, qualifying as a Chartered British Patent Attorney and European Patent Attorney. In 2010, Nadja joined HOFFMANN EITLE and has ever since helped to further grow and develop the Biotechnology practice at HOFFMANN EITLE, now one of the biggest in Europe.

Nadja has experience with a wide variety of technical areas within biotechnology, in particular cancer diagnostics and therapies, antibodies, vaccines, immunology, therapeutic targets, enzyme engineering, cell separation-purification assays and screening assays.
Dr. rer nat in Biology, Molecular Genetics, University of Heidelberg
Certificate in Intellectual Property Law, Queen Mary College, University of London
British Chartered Patent Attorney
Irish Patent Attorney
European Patent Attorney