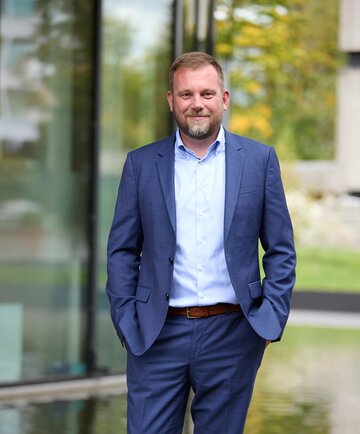 Expert on EPO Opposition and Appeals
Morten Garberg is a partner in HOFFMANN EITLE's Chemistry practice group.

Since starting his patent law career in the firm's London office in 2002, Morten has gained extensive experience in representation of clients at the European Patent Office, specializing in opposition and appeal work. For many years now, Morten has been conducting over 20 EPO hearings per year and in doing so has built up a wealth of experience which he puts to good use for his clients. His expertise with patent work spans a wide variety of technical fields, including pharmaceuticals, polymers and foods, as well as medical devices. Morten has been involved in the coordination of multi-jurisdiction litigation, and providing hands-on advice during litigation. Specific areas where Morten has worked on high-profile EPO Opposition cases with co-pending national litigation include enzymes for animal feed, PET bottles, ceramics, specialty polymers, chewing gum formulation, asthma treatment, incontinence treatment, glaucoma treatment, treatment of stomach ulcers, veterinary antibiotics and continuous glucose monitoring devices.

Morten's client base is geographically diverse, but he has extensive experience advising US corporations on patent matters in Europe.

Morten is fluent in English and Danish, and his German has steadily improved since his transfer to the Munich office in 2006 and is now near-fluent.

In his spare time, Morten plays tennis and enjoys outdoor activities. He is a keen supporter of the Danish national football team, watching their matches whenever possible.
Master of Chemistry, University of Oxford (1998-2002)
Certificate: Intellectual Property Law, Queen Mary College, London (2004)
Certificate: MBA Essentials, London School of Economics (2020)
Chartered British Patent Attorney (2006)
Irish Patent Attorney (2021)
European Patent Attorney (2006)
Representative before the Unified Patent Court (2023)
CIPA (Fellow)
epi
German Patent Attorney Bar Association
iam 1000 (2015- 2020)
"excellent feel for EPO opposition practice; extremely personable and very knowledgeable in the chemistry field"
"shines in chemistry matters"
"does a great job in litigation"
"has a feel for what the EPO wants and files meticulously researched and well-reasoned oppositions"
"highly recommended individually for prosecution and nullity."
Who's Who Legal: Patents (2016-2020)
"impressive practitioner"
"well-known for his in-depth knowledge and experience of examination, opposition and appeal proceedings"
"his work in the field of chemistry is highly respected"