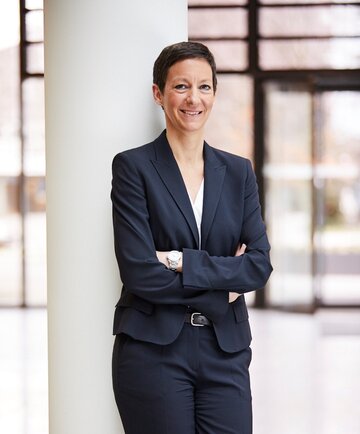 A strong IP professional with clear answers
Anne Schön, German and European Patent Attorney, is a partner in HOFFMAN EITLE's mechanical engineering practice group. For more than 20 years, she has been representing and advising clients in patent prosecution, opposition and litigation proceedings in a diverse variety of technical fields such as medical device technology, papermaking, or automotive technology, just to name a few.

Anne obtained her degree in mechanical engineering from the technical university of Braunschweig with the definite goal of becoming a patent attorney - without a plan B. The focus of her studies was on automation and control as well as system theory, from which she derived a thorough and methodical approach that benefits her greatly in her work at HOFFMANN EITLE.

Clients turn to Anne Schön because of her straightforward, clear and valuable advice, which just makes the difference.

When not at work, Anne enjoys spending time with her family. Also, she loves to travel, both in private and for business.
Technical University of Braunschweig - Diploma in Mechanical Engineering (1999)
German Patent Attorney
European Patent Attorney
Representative before the Unified Patent Court
German Patent Attorney Bar Association
epi